Hydromx® Energy Saving Solution: Advanced heat transfer nanofluid designed to replace water or water/glycol mixes in heating and cooling systems.
Proven track record around the world. Hydromx® creates efficiencies, reducing energy costs in:
Domestic & Commercial Heating Systems
Air Cooled & Water Cooled Chillers
Heat Recovery Applications
Hydromx® Energy Saving Solution: A New Generation System Fluid
| 20% Minimum Energy Reduction | NSF Buildcert CIAS Approved Inhibitor | Freeze/ Burst Protection: To -37°C |
| NSF HT1 & HT2 certified non-toxic product | Long Life Enhanced Performance & System Protection | 20 Year Insurance Backed Warranty |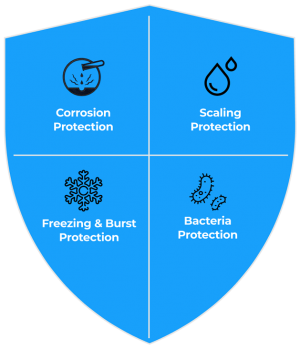 Hydromx® Top Energy Saving Product: Winner of the EU Business Award 2016 in Product & Services Category
Climate Change: March 2022 Hydromx® selected by the UK Green Building Council as a solution to the UKGBC Innovation Challenge
Hydromx®: Working Towards Net Zero
Hydromx® has been verified by Life Cycle Analysis (LCA) and Environmental Product Declaration (EPD 10329)

The LCA & EPD show clearly that Hydromx® in heating, cooling and HVAC systems reduces CO2 emissions by 25% when compared to use of water and 37% when compared to use of a water-glycol solution.
Hydromx® contributes to the new LEED v.4 standard under three headings as a green and sustainable solution.
Optimising Energy Performance
Building Life-Cycle Impact Reduction
Building product disclosure and optimisation