Telephone: 01594 836999

Contact: Marc Asker
Telephone: 07832 962635

Contact: Mark McGavin
The Thermapave system from Formpave is capable of increasing a buildings heating efficiency using natural and sustainable resources. The patented system for heat capture from stored water can be used to generate heat energy for your building, reducing the buildings reliance on gas or electricity.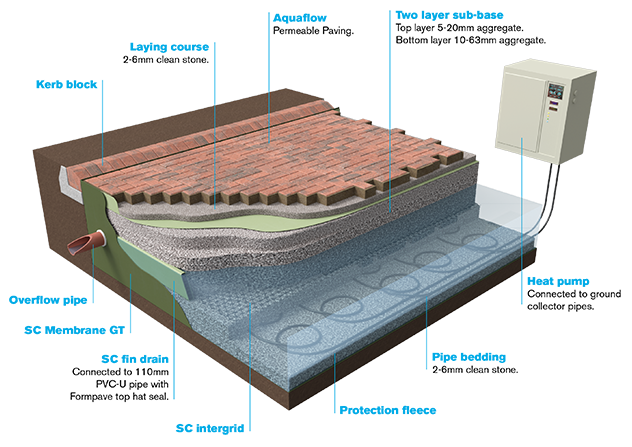 Powered by:

Energy Effective Ltd in Collaboration with Forterra Formpave
1000 to 1200 and 1400 to 1600 on Friday 23rd June Visitors are welcome to extend their stay to ask questions and learn more if they wish.
Formpave, Tufthorn Avenue, Coleford, GL16 8PR Car parking is available on site and close by if needed
Tour
Put some "magic fluid" underneath a car park and turn it into an Energy Centre.
By harnessing the energy in rainwater we can heat and cool buildings in an extremely energy efficient way, cut our energy costs, and minimise emissions. Incorporating Ground Source Heating Technology in car parks and roads turns areas of hard landscaping into valuable energy sources which are also incentivised by the Government. This is made possible with the Aquaflow Thermapave™ renewable energy system which uses Hydromx™ nanotechnology heat transfer fluid. Visit the Formpave demonstration facility to see how it works and the efficiency achieved as part of a study by the Energy Savings Trust which concludes at the end of May.
Area of innovation being demonstrated
Low carbon energy efficient heating and cooling
The event will appeal to anyone with an interest in reducing energy costs and carbon emissions including property developers, local authorities, architects, environmental management, and building management professionals
See first-hand how a buildings heating demand can be met by energy extracted from under your feet whilst mitigating local flood risk
To attend please complete the registration form below. We look forward to meeting you
Joining instructions will be emailed to you upon registration